I am delighted with my Montana. When I started looking at mobility scooters in this area I became very confused and frustrated. It was as if every dealer was running down every other dealer and scooter with no one having anything positive to put forward. And I detest being put under high pressure to buy on the spot. I was appalled at how aggressively and badly some sales reps treated me. I got talking to an experienced scooter user at the shopping centre who put me straight. Deal with the guys at Scooter City. I went on the internet and found the website which is impressive. After trying the others and then riding a Montana I am absolutely impressed at how well it drove in comparison. I waited a week to get a new one and no pressure was applied by the salesman. No money changed hands till I was 100% happy. Perfect scooter from a perfect company.
Peter S

Fantastic service really helpful.
Ross is great to talk to very knowledgeable.
Great value for your dollar. Thx guys.
Wayne P

Mine is an old Invacare that was stopped and the guy said its rubbish and buy a new one. Scooter City came out for $110 and relpaced a connection and its fine. Good people at scooter city Tkanks too much.
Bob G

Very good service & staff are very friendly nothing is to much trouble
Lynelle S

Neighbour put us onto Ross and he was helpful. We have a CTM. The issue was surging through the throotle and the dealer never fixed it regardless of the supposed warranty! Took it to Ross and two days later it came back the best its ever been. Just great.
Trevor A

We have been traveling Australia and New Zealand for the past 6 weeks. My wife's scooter a Go Go Elite Traveller had some charging issues. I called asked if the could look at it and the gentleman said to bring it in. I arrived they looked at it right away and corrected the problem. They went out of their way to helps us continue on our journey through Australia. Thank you so much it was very much appreciated
Paul R

The service provided to me from Scooter City Rocklea was second to none. My order was placed over the phone, emails with photos sent immediately.The scooter selected by me from photos was delivered on time. There is nothing they wont do for you. Ordering on line was a breeze. Free delivery Australia wide. To top it all off the price was right. Scooter City Rocklea you are amazing to deal with..thank you
Brenda G

I would like to express my appreciation of the excellent service provided by Derek. My previous Esteem, bought from you second-hand, has been used every single day for the past 10 years and Derek has always cheerfully shared his technical expertise and provided assistance with maintenance. I am now the proud possessor of a new Esteem which has noticeably refined characteristics on ride and driver comfort. Derek went out of his way to provide a solution to my specific requirements relevant to my level of disability. Nothing is ever too much trouble and his support is always greatly appreciated. Regards
Ruth R

Just thought I'd report on my new Montana Magnific. It was delivered last week and I've had a couple of chances to put it through its paces. The ride is better than my 7 year old Montana was and as I hoped the steering is lighter too. Our uneven streets and sidewalks are no problem at all. The loaner scooter I had from my dealer was a real handful to control over many of those surfaces. I needed 2 hands on the steering and some effort just to keep it on track. The Montana glides over that without even noticing. If I hadn't had the experience with the loaner I never would have known these are challenging areas for scooter steering. We live in a pretty hilly area with some pretty steep terrain. Again the Montana handles it just fine and with lots of power to spare.
Ed D

I have a hip problem and use my tycoon scooter for golf and transport...taking the dog for a walk etc....I live in the country and did not think a scooter would be capable of the gravel road and terrain however the tycoon simply goes where you aim it with ease....A small issue (bearing noise) I had was very quickly fixed thanks to the experts at Brisbane Scooter City team.
Graham S
My Montana I got from Scooter City is been the best in my life. It gets me everywhere and with my back as bad as it is the seat and the suspension is better than my scooter before. Plus it goes faster up hills and never stops. The service guy charged me to come and do a service which I thought was free after 1 yaer. $185 he took but the scooter did go better and was a regular service done by them. My daughter likes them and this is her computer. She always had to take the old scooter to the shop but has no worries with scooter city now.
Ron T
I got a new Rabbit and its fantastic. Unbelievable. I had a gogo that I traded and twice a year when it wouldn't go 4klms to Coles and back I put new batteries in. The Rabbit, after the 1st month Scooter City rang me and I said my battery indicator was faulty as it showed full all the time. Never went down. They said drive it further so I did. Over 3 days I went more than 40klms and it still was going strong. 7 bars went down so I don't know how far it will go. It goes up big hills, across tracks and everywhere. This is amazing. And it looks great. The carbon fibre and the wheels are classy and quality all over. The perfect scooter from an honest dealer.
Tom E
I love the staff at Scooter City. I traded my old style scooter on the top of the range Montana and it is just much better than I expected. The sales literature does not describe how smooth my new scooter is to drive. I ordered it and they organised payment terms, I am 77, and the delivered it the same day. He cleaned a space in my garage and set up the charger and then went for a walk around the block with me. Thank you Scooter City.
Grace W
My father who is 85 got a scooter last week. I was a bit worried that he was too old to be running around on one at his age especially as he has just had his licence taken off him.. However the guys at Scooter City were wonderful and spent a great deal of time with him to make sure he was completely familiar with he controls etc. He has now got a completely different attitude and it is wonderful to see him out and about with new found freedom! I didn't believe the salesman at first but the new scooter my Dad bought is way way more safe than anything else he looked at. More comfortable too. It is a Lotus Blake Montana. Good to see the people at Scooter City doing the right thing and not putting any sales pressure on my Dad. Many thanks. LF.
Louise F
I have just traded my 12 month old SR scooter on a New Montana. The Montana is the most amazing scooter imaginable. I had seen the ads and heard stories in the past but my local dealer slandered them badly so a year ago I bypassed the Montana and bought the big SR Rocky from said local dealer. Big mistake. So my family drove me to Scooter City and I traded it on the Montana. I use it at least 20 klms a day and it does it so well. The stability and handling is so good. The extra features are nice and the seat is so much more comfortable. Scooter City were so nice and polite. Even when I said the rubbish the local dealer said about them they didn't care. Nothing was a hassle. I pay $52 a fortnight and its easy. The manager called me a month after I got it to make sure everything is OK. I have had scooters and chairs for many years now. The first thing my son did do was look at the spare parts dept and then talk to their service technicians and this put his mind at ease after my last bad experience. The Scooter City and Montana is a class above all others and I know this now. Don't listen to people that run down other products. Look for yourself to decide is the good advice. It is worth the trip to scooter City
Jean P
I ttok my scooter to the deaeler who said it needed to trade in an get a new one. a frien said go to Scooter City and he fixed it for $125. what a rip off my dealer was. I say deal with scooter city for fair treatment of the disabled
Paul D
I have dealt with Scooter City for the past decade. My latest scooter is a Montana Magnific. This is my 3rd scooter from them. Ross in service is just marvelous. They do some much gratis for me and seem to take a real interest in me. My latest scooter is so smooth and precise. I now go scooting a lot more often as this scooter is so good to drive. And the new seat is better than any lounge chair.

Robin W
I bought a Tycoon sports mobility scooter because, first of all, it looked so expensive and classy. I understood the science after studying up on the topic. The Tycoon is really Hi Tech with very advanced engineering. I play a bit of golf and was a bit shy at my age to be using a mobility scooter. So the Tycoon was a perfect option. However this is a great product. Not just a golf scooter but a real urban electric vehicle. I now use it everyday to travel all over Brisbane. On the train into the City. Out to Cleveland and the Bay. Into the mall and shopping at Woolworths. It just goes anywhere and everywhere with real style and performance. I am an engineer and I tell you this is the future of urban transport. I also use it for golf, I drive it 2 klms to the course, play 18 holes and drive home. Its Great. I am telling you, save the planet and give up your car and get a Tycoon. When I found out that it was developed by Lotus Blake right here in Brisbane I actually felt proud to be an owner. This is what Australia needs. People that actually make great products that lead the world.
Ross K
I like my Scooter from Scooter City. I am alone in a small flat in Brisbane and I go to Aldi supermarket and the hotel for a roast lunch and I can stay in my flat without going to a nursng home. I have 1 leg amputated and I drive my Montana everywhere. Scooter City are always kind to me. I get a new Montana every 2 yeras this is my fourth 1 and is really smooth. I pay $25 a week and this is better than taxi and my son moved away for a job otherwise I can't get about to buy food or even enjoy a ride in the sun everyday. Montana is the best scooter and Scooter City is very good dealer.
Billy C


I just received my Tycoon. It almost fell together. It was so simple to assemble. You can't imagine how light some of the pieces are. Like balsa wood with the strength of steel. When I took it to the course it drew a crowd of 30 people. I felt quiet chuffed to be the first to have a Tycoon. It just looks sensational in the sunlight. The performance on the course was truly amazing. Smooth and effortless are the best words I can think of. That rare earth motor just feels so solid. I used 3 out of the 10 bars to do 18 holes plus a few test rides."
Colin K
My 2 mates have got each a large scooter from Taiwan brand and were more money then me. We went up the mountain near us and my Montana was the best. I beat all them up to the top easily. Then we went in the fire trail and my Montana was all that could go. The others stopped on the steep part.
John C
I had an American brand scooter and I had to stop using it as it hurt my spine over the bumps. It had what they said was suspension but it was really just springs on rubber bumps stops. Now I have a Montana and with the very good comfortable seat and the real suspension set to a soft setting I can use a scooter again. Plus I love the steering. Very precise. It reminds me of the MG I had in the 1970's. I had hair then! It is much better than my old scooter"
Tony W
You have gotta love the Montana. I used to have the large 4 wheel from Israel. I thought it was great because it was so big and impressive to look at. But it was really hard to control and steer. My brother looked at the front suspension and was appalled at how basic it was. He is a mechanic and when he looked at the Montana he was impressed and suggested I get one. It really is as good as they say. It is just so easy to drive. I feel so much safer and now I travel all over town."
Heather P
My first scooter was a 2002 model Esteem. It was good. Then I got my Montana. Mainly because my neighbor got one and he whizzed rings around me. The extra speed and power really gets me to where I am going. I always dreamed of owning a Porsche but never did. Now in my old age (86yrs) I feel that my Montana is the Porsche I never had. It is more than just a scooter to me. Its great."
William C
In the war I was an instrument fitter in the RAF and worked as a jaguar mechanic later on until 1965 when I went into a small business. I looked closely at all scooters before settling on the Montana. One of the things that really impressed me was the thorough attention to detail across the whole machine. Specially made stainless steel nuts and bolts, small precision bushes and thrust washers throughout the suspension. I very much like the hand sewn leather hand grips. The level of quality throughout is very classy. Way beyond all the others I viewed. And the ride comfort is really so much better. What they say is right. Nothing can compare. I congratulate the Australian engineers on their acheivement."
Walter W


All comments are edited from verbal and written testimonials from satisfied owners. They as much as possible accurately represent the original context of the full communications to us. As part of an industry acceptable internet privacy policy actual identities and addresses have been withheld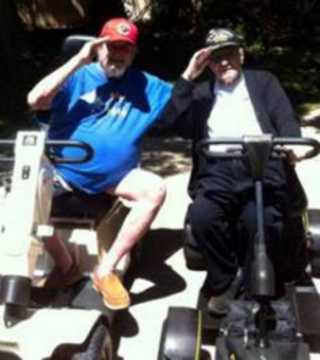 Star Hugh O'Brian and friend scooting about Beverley Hills. Great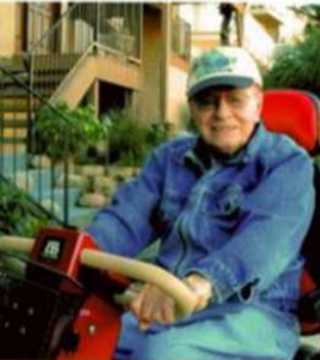 Colonel William D. 92 Enjoying his Montana everyday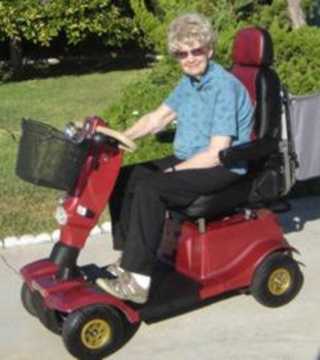 Gail R 92 yrs is able to stay living in her own home 2 years Great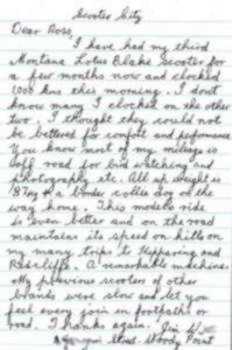 Scooter City
Dear Ross,
I have had my third Montana Lotus Blake scooter for a few months now and clocked 1,000klms this morning. I don't know many I clocked on the other two. I thought they could not be better for comfort or performance. You know most of my mileage is off road for bird watching and photography etc. All up weight is 87kg + a border collie dog on the way home. This models ride is even better and on the road maintains its speed on hills on my many trips to Kipparing and Redcliffe. A remarkable machine. My previous scooters of other brands were slow and let you feel every join in footpaths or road. I thank you again.
Jim W
Woody Point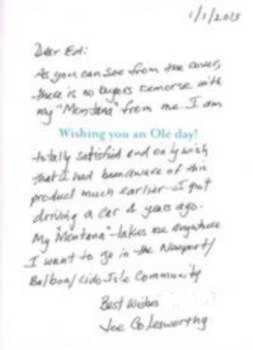 Dear Ed
As you can see from the cover, there is no buyers remorse with my Montana from me. I am totally satisfied and only wish that I had been aware of this product much earlier. I quit driving my car 4 years ago. My Montana takes me anywhere I want to go in the Newport / Balboa / Lido Island Community.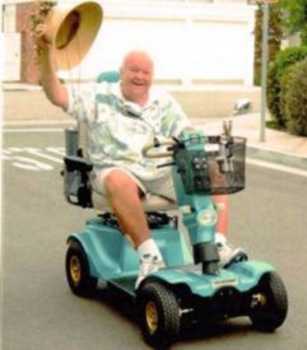 Esteem Deluxe Scooter

.
No 4 off the 1st production line. 2002
This scooter is still a great scooter today in fabulous condition and will operate fine for many years to come. We can supply all parts and servicing needs at very realistic prices. No worries