Slice the tomato into 1/8 sections and sprinkle with salt and sit for 30 minutes on absorbant paper
Remove lots of moisture before frying in a non stick frypan till charred. (5 mins) Set aside and keep warm.
Boil the pasta for 1 minute less than the suggested time. Say 11 minutes.
Cook the button mushrooms in 2 Tbs of the margarine till softened (6 mins) and set aside and keep warm.
Melt 1 Tbs of the margarine in the frypan and remove from the heat. Tilt the pan to form a pool
Add the minced garlic to the melted margarine and let infuse
When the spaghetti is just al dente return the frypan to the heat
Add 2 Tbs of Greek yogurt to the frypan with the garlic butter and stir 10 seconds.
Lift the pasta with tongs and let the water drain and add the pasta directly to the frypan. Cook 1 minute
Then add the mushrooms, tomatoes, salt and pepper. Toss through and plate

In the same frypan over medium heat cook the Tuna for 40 seconds a side and then roll the edges to brown.
Slice to 4mm thick and sprinkle with lemon juice and season. Place over the pasta.
Add seasoned avocado slices between the tuna slices.
Add dobs of the remaining Greek yogurt.

Top with some shredded cheddar and parmesan cheese.

Serve with a small Garden salad

The tomato element can actually be a variety of whatever (anchovies, olives) to add a salty element to the dish. My thoughts are that ripe tomato is the ingredient that most magnifies the taste of salt, thus you need less salt.
240g Tuna Steaks
150g Thick Spaghetti
3 cloves minced Garlic
Salt Pepper
3 Tbs Greek yougurt (sour cream)
3 Tbs Omega 3 Margarine (butter)
100g Button mushrooms sliced
2 Tomatoes
1 Large Avocado cut into slices
Lemon juice
Parmesan Cheese
Cheddar Cheese

Serves 2 large or 4 small portions at about 600 or 300 calories a serve

I usually buy Yellow Fin frozen tuna steaks. The trick is to remove it from the freezer just 90 minutes or so before cooking. It will defrost quite quickly. If it sits for a long period defrosted either on the bench or in the refrigerator the texture will become a little mushy.
For all of us it has become necessary to start tempering what we eat. This is a combination of many healthy ingredients and superfoods put together in a very palatable way. In fact this is so tasty you don't need to eat it just because its healthy. A true modern classic recipe. There is debate about the benefits of omega 3 margarines and vegetables oils. From the cholesterol lowering standpoint its a winner. However you can substitute butter for margarine, sour cream for greek yogurt and its great. Once the pasta goes in the boiling water this is a very quick dish to cook. Think about the timing of each element around the pasta cook time.

The basic idea of most restaurant chefs compared to home cooks is add lots more salt, fat and msg. Even when reading a list of ingredients that make you feel like you are eating healthy, it may be overwhelmed with calories and unwanted salt. Take some salad ingredients and make it palatable with a creamy salad dressing and its not hard to add 500 calories with just 2 heaped spoonfuls of dressing. 1 level tablespoon of oil or mayo is 150 calories. Watch a celebrity chef cook. A handful of salt and load it up with Olive oil. Frightening.

Click Image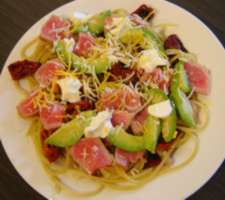 copyright 2012 LB designs